Steel Prefab Metal Buildings Provides Superior Protection For Your Equipment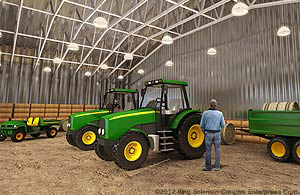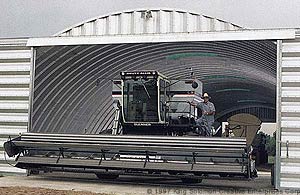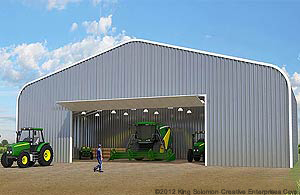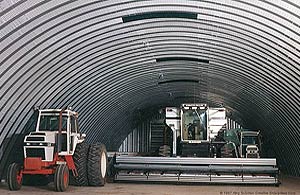 Don't risk leaving your valuable grain harvesters and combines outside in the elements or under the roof of a leaky, dilapidated wooden barn. International Steel Buildings metal buildings for farm equipment and machinery storage give you weather-safe affordable quality, and a building that is virtually maintenance free. The buildings incredible versatility, patented metal building design, and superior engineering adapt these super tough steel structures to virtually any agriculture related building use. International Steel Buildings are impervious to rust and rot and the buildings are insect and vermin-proof. These durable super-tough steel buildings have no rafters on which birds may roost and defecate on machinery, equipment, or vehicles. With no posts or beams, our steel buildings have completely usable space in which to maneuver farm machinery, grain harvesters, tractors, combines, balers, and other equipment. With International Steel Buildings you get peace of mind that comes with a 40-year rust-through perforation warranty.
Light Guage Steel Buildings Designed For Farm Machinery & Equipment Storage
Q-Model steel buildings are perfect for garaging combines, harvesters, irrigation equipment, tools and vehicles. The International Steel Span® Q-model metal building features the classic Quonset style building design. This extremely versatile building is supplied in widths starting from twenty ft (6 meters) to one hundred ft (30 meters) and are able to be constructed to virtually any length that may be called for. Your Q-model steel building would be the largest metal building model we supply, which makes it the farmer's first choice for large equipment and vehicle storage, making it easy to pull your expensive equipment rapidly under shelter when inclement weather threatens, and with plenty of sheltered space in which to work.
S-Model steel buildings have proven to be well-adapted for use as equipment storage sheds in addition to machinery storage. Our S-Model features straight walls along with a round top and high interior side wall clearance that enables equipment to get pulled up near to the interior walls yet still offers lots of height to permit the utilization or hydraulic lifts and large machinery without any concerns regarding height. The widely used S-model metal building is available in widths from sixteen ft. (5 meters) to fifty ft. (15 m) and unrestricted lengths without any beams or posts to offer utmost usable interior space for to garage and maintain your vehicles with a minimum financial expense.
P-Model steel buildings include straight walls offering optimum usable interior space in a very recognizable car or truck garage-style shape. This particular timeless metal building design is supplied in widths ranging from fourteen ft. (5 meters) to thirty ft. (9 meters) plus unrestricted lengths. The particular P-Model steel building, featuring its recognizable peaked roof profile is frequently employed for a new garage for an automobile or perhaps pickup truck. The particular P-model is frequently employed for a backyard workshop, a production space, or perhaps a wood working workshop. This particular metal building style also makes a fantastic "Man Cave" or perhaps a week end hunting camp!
The A-Model steel buildings, together with timeless design and high roof pitch, works with high-snow locations, making it an ideal building for your end of the week hunting escape, vehicle garage, work shop, product warehouse, livestock housing, or perhaps recreational vehicle storage space in locations having challenging weather conditions that make various other structures not practical or even not possible. The particular A-model building can be obtained in widths of sixteen ft (5 meters) to forty ft (12 meters) along with lengths virtually as long as you may require.
What Makes International Steel Span Number One
International Steel Span is serious about quality and customer service. We supply a superior technological product with respect for our workers and the environment. International Steel Span's goal has always been 100% customer satisfaction, while constantly looking for ways to improve our buildings. Every International Steel Span building is designed and tested to the highest standard of quality and is engineered to withstand the most severe weather conditions, including heavy snows, high winds, earthquakes and even hurricanes.
40-year rust-through perforation warranty
Designed by the best engineering professionals in the United States
Precision-made, precision-manufactured
Remarkably affordable
Voted superior to similar style buildings
Made only from the highest quality, heaviest gauge U.S. commercial steel available
Simple bolt-together construction
Easily expandable to any length
Completely maintenance free
Fire and vermin resistant
Computer aided design and manufacture
Every building custom made to customer specifications
Friendly and highly skilled customer service personnel
World's most durable truss-less building
Designed to withstand harshest weather conditions on earth, including heavy snow, high winds, earthquakes and hurricanes
Manufactured exclusively in the United States
Maximum usable space for minimum financial investment
Highly versatile, perfect for virtually any commercial, industrial, farm, or residential application
Green, energy efficient, environmentally responsible